Come in and look at what is on the shelves (UPDATED MONTHLY) or drop by
Check out this month's Sale Flyer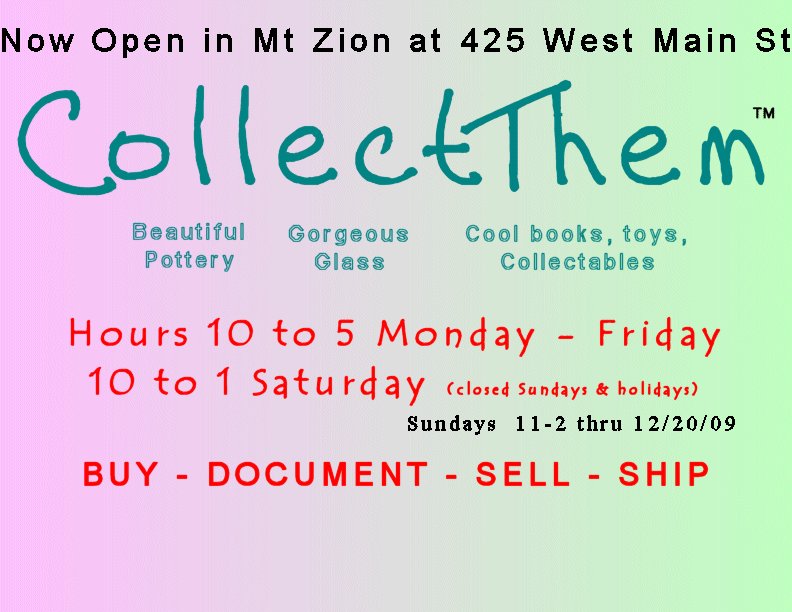 IMPORTANT INFORMATION
HOW TO SAVE BY BUYING AT THE RIGHT TIME
Save on buying items before they go on the internet, especially buying complete groupings or sets or collections.
Items for sale on the internet involve very nice items at very reasonable opening bids.
Items not sold on the internet will be back on display in the store at very, very low prices.
The store will feature a new display each week. Monday will be the first day of the new items. Friday will be the last day.
EXCLUSIVE! Check the website before stopping by. You can see what is on display in the store. Click on SHELVES.
Make sure you check or stop by each week to take advantage of an item's status.

HOW TO DOCUMENT BY HAVING A GOOD INVENTORY LIST
On paper or on the computer, we can help you track all your stuff (costs vary).
There are dozens of ways to keep track of your collection.
Software may already exist for the types of things you collect.
HOW TO WAREHOUSE BY STORING YOUR COLLECTIONS WITH US
Warehouse in our self storage units, instead of your place (subject to availability).
HOW TO EARN BY SELLING AT THE RIGHT TIME
If it is collectable, we can help you sell your stuff.
Have us research the recent prices of things you collect.
Perhaps, your collection would start out in our store and then on eBay or Overture or Amazon.
If needed, we can help you build your own complete custom website to sell your stuff.
Earn by selling with our help for every detail you need help on (fees do apply for our services).
WHAT WE SELL AND SOME STRAIGHT TALK
We sell our services and collectable items.
We sell mostly vintage, antique, primitive, rare, unusual, hard to find, and one of a kind items.
New items are usually noted as such.
Because of our great variety, it is possible we could miss something, but we try to point out any damage, wear, or missing pieces.
It is the buyer's responsibility to inspect the item or read the description and view the photos before purchasing.
All items are sold as is.
All sales are final.
If there is a problem, talk to us first.
Thank you for your interest and, hopefully, your business.
- - - - - - - - -